By the time you're ready to start wedding dress shopping, you've probably amassed a pretty nice-sized wish list about your dream gown. But how do you find the best wedding dress for your body type? Most bridal shops will only let you book an hour-long appointment. And, while one hour is plenty of time to try on dresses, if you can narrow down your options before stepping foot in the dressing room, you're in for a much more pleasant, laid-back shopping experience.
One easy way to limit your options is to choose the best wedding dress for your body type by finding a silhouette that will highlight your best-loved assets and conceal your less-favorable traits. To start, figure out which of our five featured body types best defines your figure: Petite, plus size, busty, hourglass or lean and straight. And remember, you may not fit squarely into one category — most people don t! Take Kim Kardashian: She's petite, busty and has (insane) hourglass curves. And, her wedding dress  with its sheath silhouette, modest neckline and waist-baring cut-outs, was the perfect complement to her shape.
Along with finding the right gown for your body type, there are a few other things that can help make your wedding dress shopping experience as easy as possible. First, trust your consultant and don't be afraid to try on gowns he or she suggests that fall outside of your traditional comfort zone. Also shop with a supportive crew! Miss Negativity does not deserve a sacred spot on the "yay-or-nay" team. And finally, do your makeup and hair. It will be much easier to imagine wearing one of these gowns on your wedding day if you don't look like you just rolled out of bed.
Well, what are you waiting for? Book your appointment and start reading to see how to find the best wedding dress for your body type!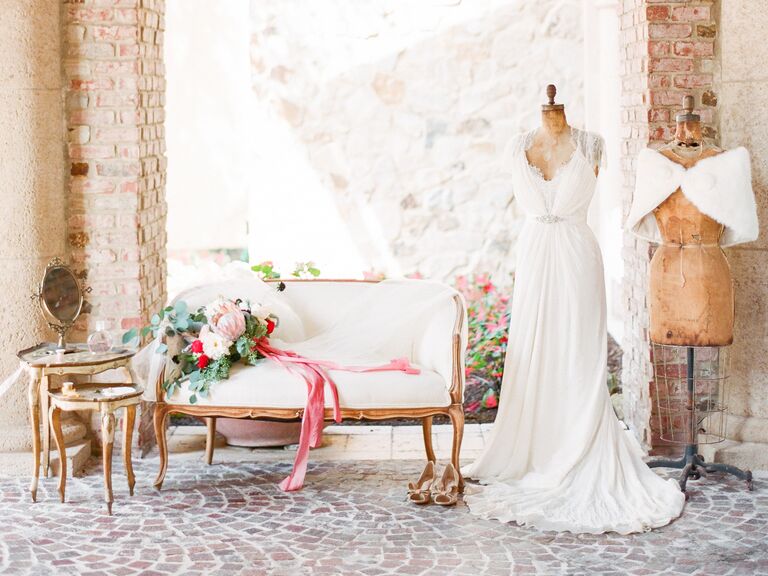 photo by 

YOU LOOK LOVELY PHOTOGRAPHY
Ball Gown

What it is The number one distinguishing trait of a ball gown is its very full (aka huge) skirt. The silhouette also has a fitted bodice and is cinched at the natural waist.
Best for Brides with boyish figures. The fullness of the dress will make you look curvier.
Avoid if You're a petite bride. You'll get swallowed up by a dress this voluminous.

Dress, $1,500, DemetriosBride.com; earrings, $68, AnnaBellagio.com

Mermaid

photo by 

TREVON DIXON

What it is This shape is defined by a slim, tapered, curve-hugging skirt that follows the line of the hips and thighs and flares out below the knee.

Best for Brides with hourglass figures who want to show off their curves.

Avoid if You know you don't want something tight; this style is constricting.

 

Column

photo by 

TREVON DIXON


What it is This formfitting style follows the body's natural line and doesn't flare out. It's also referred to as a sheath.

Best for Petite women, since this slim shape adds length. This silhouette also looks great on brides with sleek figures.

Avoid if You're pear-shaped (when you're small on top but more rounded on the bottom). This silhouette will make you look unbalanced.

Drop Waist

photo by 

TREVON DIXON


What it is This silhouette is exactly as you would imagine—it drops and flares out slightly below the waistline around your hip area.

Best for Brides who want to flaunt their trim middles and shape, since it hugs your waist and hips.

Avoid if You have a boxy figure—it might make you look like you have less curves.

A-Line

photo by 

TREVON DIXON

What it is As its name implies, this cut is narrow at the top and extends out along the body in the shape of—you guessed it—an "A."

Best for All body types. There's a reason it's one of the most popular skirt silhouettes—it's super-flattering on almost everyone.

Avoid if You're looking for something really sexy.

Dress, $1,950, JennyYoo.com; earrings, $18, brooch, $68, AnnaBellagio.com

Trumpet

What it is A straight-lined skirt subtly flares from the knee toward the hem in a trumpet shape.

Best for Curvy brides who are looking for a formfitting dress that's slightly easier to move in.

Avoid if You're not comfortable with clearly showing off your shape or if you have an apple or boxy body type.
Wedding gown shopping can be overwhelming. But knowing basic dress silhouettes and body types and also understanding how they flatter your figure will help. Remember: How you feel in that dress is crucial to finding the right fit.